We'd like to introduce you to our team heading up our new tooling facility in Wales.
These guys are experts in producing all your bespoke hose samples and within a two-week turnaround too!
Image left to right: Leigh Thomas, Kurt Jones, Lee Collins, Wesley Jones.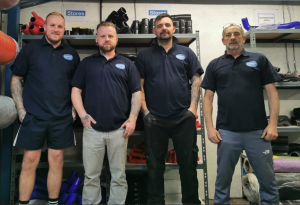 Are you looking for bespoke hoses and need a sample hose quickly?
No matter what shape, size or colour of hose you are after, our team is able to create silicone hoses specific to your requirements.
READ MORE ABOUT OUR TOOLING FACILITY
Get in touch with the team today to discuss:
Tel: +44 (0) 1772 642 478
Email: info@lhss.co.uk